*This post originally appeared on Hands Free Mama. 
When you're living a distracted life, every minute must be accounted for. You feel like you must be checking something off the list, staring at a screen, or rushing off to the next destination. And no matter how many ways you divide your time and attention, no matter how many duties you try and multi-task, there's never enough time in a day to ever catch up.
Cuando tienes una vida ajetreada, has de tener en cuenta cada minuto. Sientes como que deberías estar borrando algo de la lista de cosas que hacer, mirando a una pantalla o corriendo hacia el siguiente destino. Y no importa de cuántas maneras dividas tu tiempo o atención, no importan cuantas obligaciones intentes e intentes hacer a la vez, nunca hay suficiente tiempo en un día para ponerse al día.
That was my life for two frantic years. My thoughts and actions were controlled by electronic notifications, ring tones, and jam-packed agendas. And although every fiber of my inner drill sergeant wanted to be on time to every activity on my overcommitted schedule, I wasn't.
Esa fue mi vida durante dos frenéticos años. Mis acciones y pensamientos fueron controlados por notificaciones electrónicas, tonos de llamada y agendas repletas. Y aunque cada fibra de mi sargento interior quería llegar a tiempo a cada actividad de mi apretada agenda, no podía.
You see, six years ago I was blessed with a laid-back, carefree, stop-and-smell-the roses type of child.
Veréis, hace seis años fui bendecida con un tipo de hija relajada que no creaba preocupaciones.
When I needed to be out the door, she was taking her sweet time picking out a purse and a glittery crown.
Cuando había de salir por la puerta, ella se tomaba su dulce tiempo escogiendo un bolso y una corona con purpurina.
When I needed to be somewhere five minutes ago, she insisted on buckling her stuffed animal into a car seat.
Cuando hacía cinco minutos que había de estar en algún lugar , ella insistía en ponerle el cinturón de un asiento del coche a su animal de peluche.
When I needed to grab a quick lunch at Subway, she'd stop to speak to the elderly woman who looked like her grandma.
Cuando necesitaba tomar un almuerzo rápido en Subway, ella se paraba a hablar con la anciana que se parecía a su abuela.
When I had 30 minutes to get in a run, she wanted me to stop the stroller and pet every dog we passed.
Cuando tenía 30 minutos para para correr, ella quería que parara el cochecito para acariciar cada perro que pasaba.
When I had a full agenda that started at 6:00 a.m., she asked to crack the eggs and stir them ever so gently.
Cuando tenía una agenda completa que empezaba a las 6:00 am, ella pidió romper los huevos y los batió como siempre muy suavemente.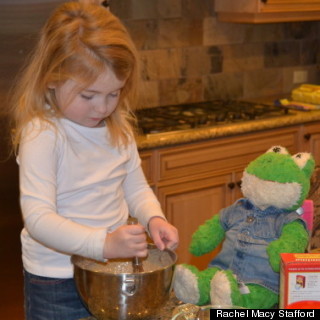 My carefree child was a gift to my Type A, task-driven nature —but I didn't see it. Oh no, when you live life distracted, you have tunnel vision — only looking ahead to what's next on the agenda. And anything that cannot be checked off the list is a waste of time.
Mi hija que no creaba preocupaciones era un regalo para mi tendencia a estar atareada, pero no lo vi. Oh no, cuando vives la vida distraída, tienes una visión de túnel – sólo mirando hacia qué es lo siguiente en la agenda. Y todo lo que no se puede borrar de la lista es una pérdida de tiempo.
Whenever my child caused me to deviate from my master schedule, I thought to myself, "We don't have time for this." Consequently, the two words I most commonly spoke to my little lover of life were: "Hurry up."
Cuando mi hija me desviaba de mi horario maestro, pensaba: "No tenemos tiempo para esto." Como consecuencia, las dos palabras que más comúnmente decía al pequeño amor de mi vida eran: "Date prisa".
I started my sentences with it.
"Hurry up, we're gonna be late."
Empezaba mis frases con éstas.
"Date prisa, vamos a llegar tarde."
I ended sentences with it.
"We're going to miss everything if you don't hurry up."
Acaba mis frases con éstas.
"Acabaremos sin hacer nada si no te das prisa."
I started my day with it.
"Hurry up and eat your breakfast."
"Hurry up and get dressed."
Empezaba mi día con éstas.
"Date prisa y cómete tu desayuno."
"Date prisa y vístete."
I ended my day with it.
"Hurry up and brush your teeth."
"Hurry up and get in bed."
Acababa mi día con éstas.
"Date prisa y cepíllate los dientes."
"Date prisa y vé a la cama."
And although the words "hurry up" did little if nothing to increase my child's speed, I said them anyway. Maybe even more than the words, "I love you."
Y aunque las palabras "date prisa" hicieron poco o nada para aumentar la prisa de mi hija, yo se lo decía de todos modos. Puede que incluso más que las palabras, "Te amo".
The truth hurts, but the truth heals… and brings me closer to the parent I want to be.
La verdad duele, pero la verdad cura … y me acerca a la madre que quiero ser.
Then one fateful day, things changed. We'd just picked my older daughter up from kindergarten and were getting out of the car. Not going fast enough for her liking, my older daughter said to her little sister, "You are so slow." And when she crossed her arms and let out an exasperated sigh, I saw myself — and it was a gut-wrenching sight.
Pero un día fatídico, las cosas cambiaron. Acabábamos de recoger a mi hija mayor del jardín de infancia y estábamos saliendo del coche. No iba lo suficientemente rápida para su gusto, mi hija mayor le dijo a su hermana pequeña: "Eres muy lenta." Y cuando cruzó los brazos y soltó un suspiro exasperado, me vi a mí misma  y fue una visión desgarradora.
I was a bully who pushed and pressured and hurried a small child who simply wanted to enjoy life.
Yo era una matona que presionaba y daba prisas a una niña pequeña que simplemente quería disfrutar de la vida.
My eyes were opened; I saw with clarity the damage my hurried existence was doing to both of my children.
Mis ojos se abrieron; y vi con claridad el daño que mi ajetreada existencia estaba haciendo a mis dos hijas.
Although my voice trembled, I looked into my small child's eyes and said, "I am so sorry I have been making you hurry. I love that you take your time, and I want to be more like you."
Aunque mi voz temblaba, miré a los ojos de mi niña pequeña y dije: -Siento mucho que te haya estado dando prisa. Me encanta que te tomes tu tiempo, y quiero ser más como tú. "
Both my daughters looked equally surprised by my painful admission, but my younger daughter's face held the unmistakable glow of validation and acceptance.
Mis dos hijas parecían igualmente sorprendidas por mi dolorosa declaración, pero el rostro de mi hija pequeña tenía el inconfundible resplandor de la aceptación y validación.
"I promise to be more patient from now on," I said as I hugged my curly-haired child who was now beaming at her mother's newfound promise.
"Prometo ser más paciente a partir de ahora", le dije mientras abrazaba a mi hija de cabellos rizados que estaba sonriendo ante la recién descubierta promesa de su madre.
It was pretty easy to banish "hurry up" from my vocabulary. What was not so easy was acquiring the patience to wait on my leisurely child. To help us both, I began giving her a little more time to prepare if we had to go somewhere. And sometimes, even then, we were still late. Those were the times I assured myself that I will be late only for a few years, if that, while she is young.
Fue bastante fácil quitar "Date prisa" de mi vocabulario. Lo que no era tan fácil era adquirir la paciencia de esperar a mi distraída niña. Para ayudarnos a ambas, le empecé a dar un poco más de tiempo para prepararse si teníamos que ir a algún lugar. Y a veces, incluso, todavía llegábamos tarde. Esos fueron los tiempos en los que me prometí a mi misma que llegaría tarde sólo durante unos años, si eso, mientras ella fuera joven.
When my daughter and I took walks or went to the store, I allowed her to set the pace. And when she stopped to admire something, I would push thoughts of my agenda out of my head and simply observe her. I witnessed expressions on her face that I'd never seen before. I studied dimples on her hands and the way her eyes crinkled up when she smiled. I saw the way other people responded to her stopping to take time to talk to them. I saw the way she spotted the interesting bugs and pretty flowers. She was a Noticer, and I quickly learned that The Noticers of the world are rare and beautiful gifts. That's when I finally realized she was a gift to my frenzied soul.
Cuando mi hija y yo paseábamos o íbamos a tiendas, le permití que marcara el ritmo. Y cuando se paraba a mirar algo, echaba los pensamientos de mi agenda fuera de mi cabeza y simplemente observaba a mi hija. Fui testigo de expresiones en su rostro que nunca había visto antes. Estudié los hoyuelos de sus manos y la forma en que sus ojos se arrugaban cuando sonreía. Vi cómo otras personas le respondían cuando ella se paraba para hablar con ellos . Vi la forma en que ella observaba las flores bonitas y los insectos interesantes. Ella era una Observadora, y rápidamente aprendí que Los Observadores del mundo son regalos hermosos y extraños. Ahí es cuando finalmente me di cuenta de que era un regalo para mi alma ajetreada.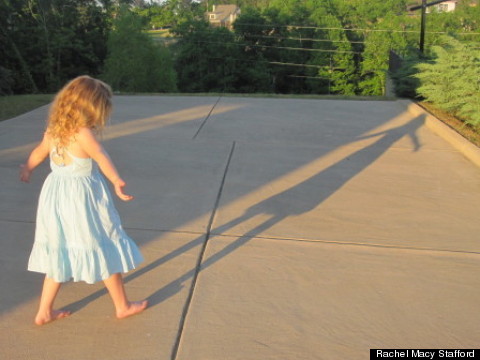 My promise to slow down was made almost three years ago, at the same time I began my journey to let go of daily distraction and grasp what matters in life. And living at a slower pace still takes a concerted effort. My younger daughter is my living reminder of why I must keep trying. In fact, the other day, she reminded me once again.
Hice mi promesa de relajarme hace casi 3 años, al mismo tiempo empecé mi camino para centrarme en lo que importa en la vida y dejar las distracciones diarias. Y vivir a un ritmo más relajado también requiere un esfuerzo. Mi hija pequeña es mi vivo recordatorio de por qué debo seguir intentándolo. De hecho, el otro día, me lo recordó una vez más.
The two of us had taken a bike ride to a sno-cone shack while on vacation. After purchasing a cool treat for my daughter, she sat down at a picnic table delightedly admiring the icy tower she held in her hand.
Las dos cogimos la bici para ir a una tienda de helados mientras estábamos de vacaciones. Después de comprar un refrescante helado para mi hija, se sentó en una mesa de picnic encantada admirando la torre helada que sostenía en su mano.
Suddenly a look of worry came across her face. "Do I have to rush, Mama?"
De repente una mirada de preocupación apareció en su cara. "¿Me he de dar prisa, Mama?"
I could have cried. Perhaps the scars of a hurried life don't ever completely disappear, I thought sadly.
Podría haber llorado. Puede que las cicatrices de una vida ajetreada no desaparezcan jamás, pensé entristecida.
As my child looked up at me waiting to know if she could take her time, I knew I had a choice. I could sit there in sorrow thinking about the number of times I rushed my child through life… or I could celebrate the fact that today I'm trying to do thing differently.
Cuando mi hija me miró esperando para saber si podía tomarse su tiempo, sabía que tenía opciones. Podía quedarme sentada entristecida pensando en el número de veces que di prisa a mi hija a lo largo de la vida … o podía celebrar el hecho de que hoy estoy tratando de hacer las cosas de manera diferente.
I chose to live in today.
Escogí vivir el presente.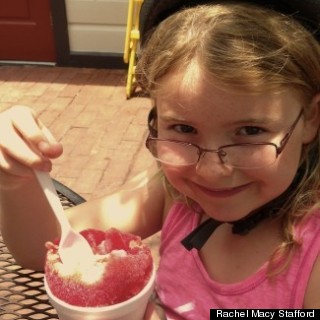 "You don't have to rush. Just take your time," I said gently. Her whole face instantly brightened and her shoulders relaxed.
"No te des prisa. Tómate tu tiempo," le dije con delicadeza. Su cara se iluminó de golpe y sus hombros se relajaron. 
And so we sat side-by-side talking about things that ukulele-playing-6-year-olds talk about. There were even moments when we sat in silence just smiling at each other and admiring the sights and sounds around us.
Y nos sentamos lado a lado hablando de cosas sobre de las que las niñas de 6 años que tocan el ukelele hablan. Incluso hubieron momentos en los que nos sentábamos en silencio sólo sonriendonos la una a la otra, admirando las vistas y los sonidos que nos rodeaban.
I thought my child was going to eat the whole darn thing — but when she got to the last bite, she held out a spoonful of ice crystals and sweet juice for me. "I saved the last bite for you, Mama," my daughter said proudly.
Pensé que mi hija se iba a comer todo la maldita cosa – pero cuando llegó el último bocado, me ofreció una cucharada de cristales de hielo y jugo dulce. "Te guardé el último bocado, mamá", dijo orgullosamente mi hija.
As I let the icy goodness quench my thirst, I realized I just got the deal of a lifetime.
Mientras dejaba que la diosa helada saciara mi sed, me di cuenta de que acababa de conseguir el logro de una vida.
I gave my child a little time… and in return, she gave me her last bite and reminded me that things taste sweeter and love comes easier when you stop rushing through life.
Le di a mi hija un poco de tiempo … y a cambio, ella me dio su último bocado y me recordó que las cosas son más dulces y el amor es más fácil cuando paras de darte prisa en la vida.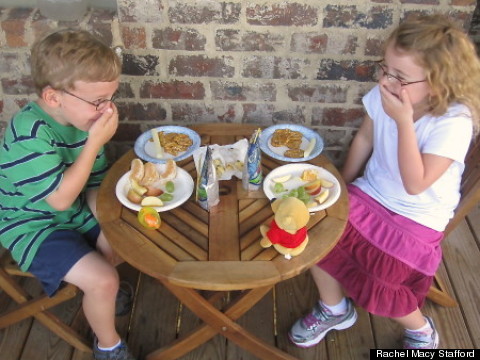 Whether it's …
Ya sea…
Sno-cone eating
Comiendo helados
Flower picking
Cogiendo flores
Seatbelt buckling
Poniéndose el cinturón
Egg cracking
Rompiendo huevos
Seashell finding
Encontrando pechinas
Ladybug watching
Mirando mariquitas
Sidewalk strolling
Paseando por la acera
I will not say, "We don't have time for this." Because that is basically saying, "We don't have time to live."
No voy a decir, "No tengo tiempo para esto." Porque básicamente estoy diciendo, "No tenemos tiempo para vivir."
Pausing to delight in the simple joys of everyday life is the only way to truly live.
Parar para disfrutar las cosas simples del día a día es la única manera de vivir verdaderamente.
(Trust me, I learned from the world's leading expert on joyful living.)
(Creedme, lo he aprendido de la experta mundial en vivir alegre.)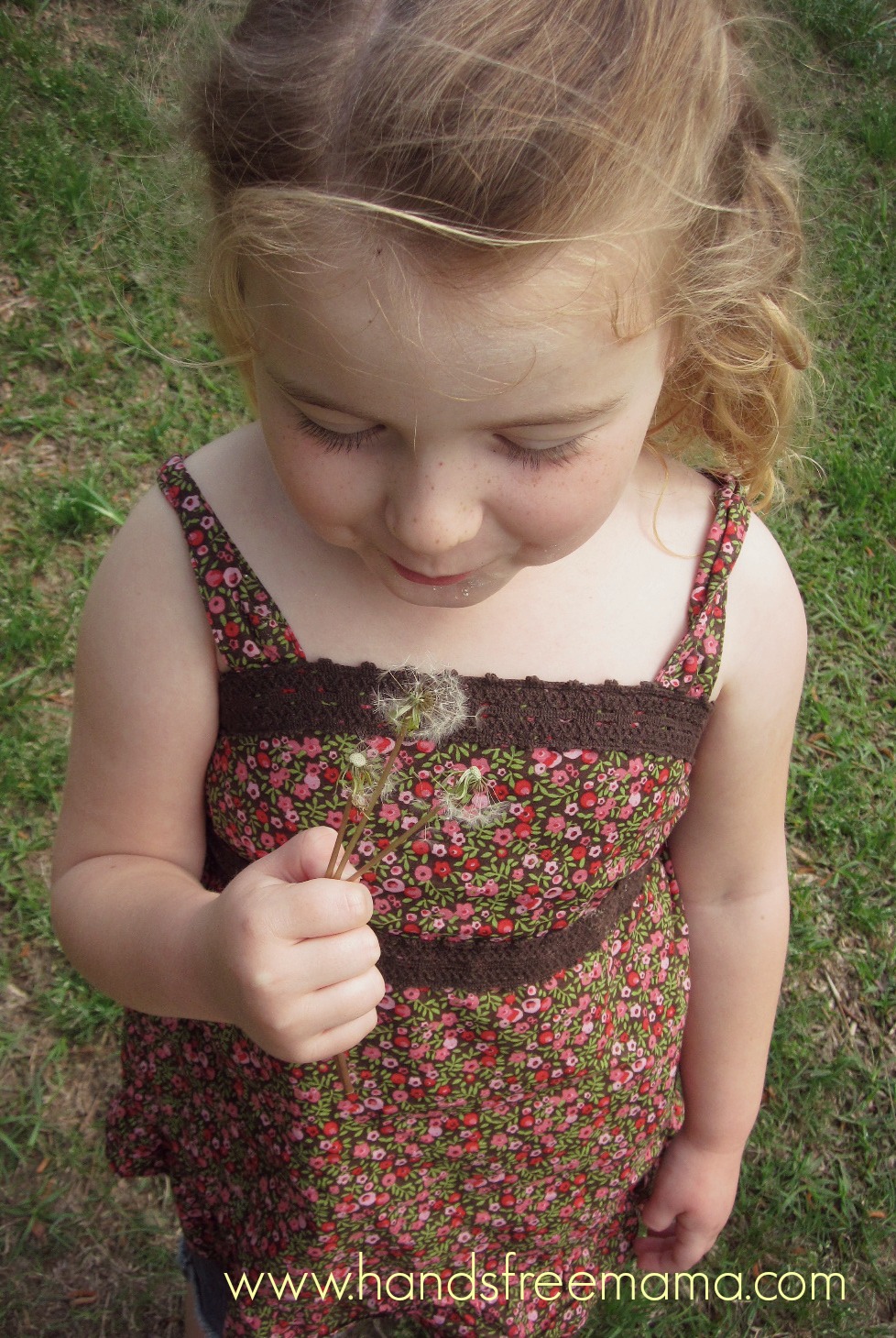 We are building an App that focuses on making you learn grammar, vocabulary, phonetics, communicative abilities and make you achieve fluency speaking. Visit Yenga.co to have more information.